Natural Alternative® Ice Melt
The Hardest Working Environmentally Safer Ice Melt for the Harshest Conditions
Melts Ice Fast and Works To -16°F
Resists Re-Freezing
Requires Less Product Than Rock Salt
Gentle On Concrete
Safer For Trees, Shrubs and Vegetation
Longer Shelf Life
Biodegradable and Non-Toxic (Safer For Fish and Pets)
Why Choose Natural Alternative® Ice Melt?
Traditional ice melter products, such as rock salt, can be very damaging to soil, waterways and plants. Many are also highly corrosive to metals and lose their melting effectiveness at only 15°F. Other common ice melters can cause severe skin burns or rashes to people and pets and can be slippery when wet.
Natural Alternative® Ice Melt does not contain high concentrations of salt, has very low corrosive activity and is safer for you and the environment. Unlike calcium chloride, Natural Alternative® Ice Melt does not get slippery when wet; therefore, reducing potential injuries from falls. So whether it is 32°F or -16°F, Natural Alternative® Ice Melt outperforms traditional ice melter products in numerous ways.
How Fast and How Long Will It Work?
It is always best to apply Natural Alternative® Ice Melt prior to snow and ice. However, as soon as it comes in contact with moisture, the product begins to form a brine (a mixture of Natural Alternative® Ice Melt and water), which acts quickly to melt ice and snow. The brine lowers the freezing point of the ground and effectively minimizes ice and snow accumulations.
Natural Alternative® Ice Melt also lasts longer than most competitive ice melter products—both in use and in storage.
Natural Alternative® Ice Melt's 4-way Blend of Powerful Ice Melters Outperforms Competitors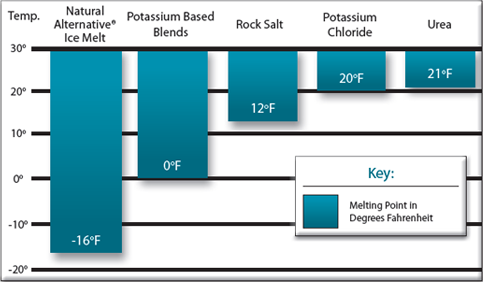 Angular shaped granules are screened and sized to consistently outperform spherical pellets by having more surface contact, resulting in maximum melting performance.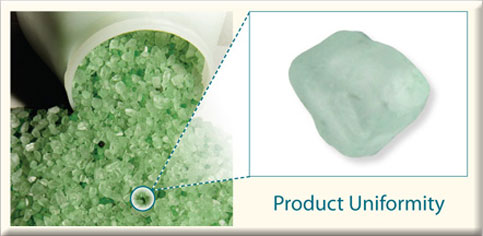 Doing the Right Thing
With the public's growing concern for the environment, we realize the importance of offering products that not only work great, but are safer for you and our planet. Natural Alternative® Ice Melt:
Has been scientifically shown not to harm fish or promote algae growth
Is listed with the Pacific Northwest Snowfighters Association (PNS) for reduced corrosion
Requires significantly less product than rock salt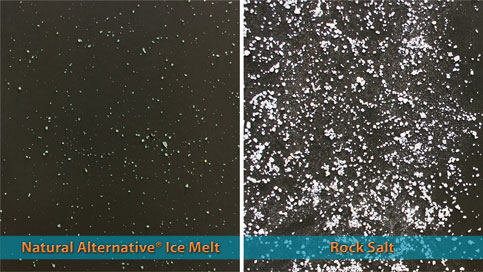 Natural Alternative® Ice Melt is a product of NaturaLawn® of America, who pioneered the breakthrough into environmentally responsible services and products in 1987 and is currently affiliated and/or has working relationships with:
Green Hotels Association
Professional Landcare Network (PLANET)
Pesticide Environmental Stewardship Program (PESP)
Chesapeake Bay Foundation
Commercial Application Instructions
Minimum of 3 lbs. per 1,000 sq.ft. covers 15,000 sq. ft.
Maximum of 8 lbs. per 1,000 sq. ft. covers 6,000 sq. ft.
Resources