Natural Alternative® 100% CMA Ice Melt
with a Bio-Based Activator for Faster Melting and Lower Freezing Temperatures
Chloride-Free—Eliminates Chloride Corrosion of Metals
Less Corrosive Than Tap Water—Easy On Watersheds, Lakes, Rivers and Streams
Increases Soil Permeability—Calcium and Magnesium Are Soil Amendments
Highly Visible Colorant—Aids Applicator In Low-Visibility Conditions
No Pitting or Spalling—Safe To Use On Properly Installed Concrete 30 Days After Installation**
LEED Compliant
Natural Alternative® 100% CMA Ice Melt exceeds the U.S. Green Building Council LEED credit guidelines for the Building Operations and Maintenance rating system, making it the safest ice melt for high-value structures. Whether you're a property manager, retail site, hospitality business, warehouse, distribution center, building engineer, construction company, DOT, LEED property, or a snow/ice professional, you've now discovered the safest chloride-free ice melt product.
**Spalling Effect of Deicers on Non-Air Entrained Structural Concrete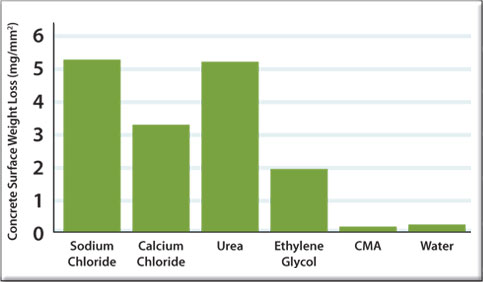 How CMA Works
CMA keeps the snow lighter and drier, thus improving traction and snow and ice removal. Do not expect CMA to create a brine like traditional chlorides.
Directions
For best results, apply before or at the beginning of a storm to prevent snow/ice bonding. Allow time for product to penetrate and loosen the snow/ice before removal. Re-apply when new accumulation shows first tendency to bond.
Application rates vary according to climate and maintenance practices. First applications should be heavier and become lighter as a storm continues.
COMMERCIAL APPLICATORS: Apply 5 – 15 pounds per 1,000 square feet.
HIGHWAYS: Apply 300 – 400 pounds per lane mile.
CONSUMERS: Apply 6 pounds per 1,000 square feet.
NOTE: The bulk density of Natural Alternative® 100% CMA Ice Melt is about 40 pounds/cubic foot compared to 70 pounds/cubic foot for rock salt. Since CMA is lighter, applications based on weight will appear to have 75% more pellets on the road surface compared to an equivalent application of salt.
Apply in accordance with label recommendations. When used as directed, this product will not harm plants, lawns or paved surfaces. If swallowed, consult a physician. If product gets in eyes, flush with water. If redness or irritation is severe or persists, consult a physician. Wash hands after application.
Resources